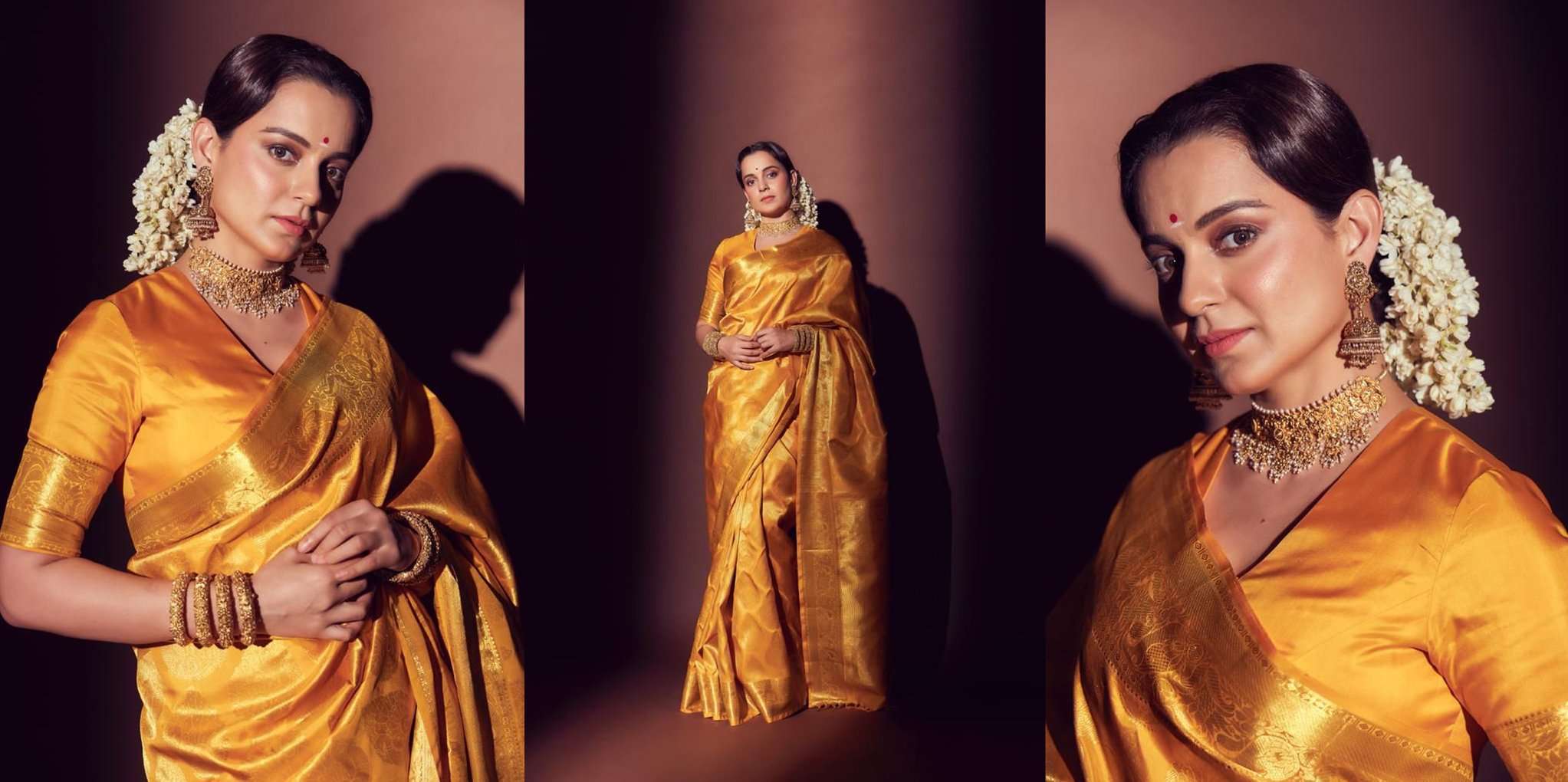 No one can live, love, and lead like a woman. When she loves, she becomes protective like a tigress on a prowl and when she leads, she is unstoppable as if challenging the sky to up her limits, because she's only going to fly higher. J Jayalalithaa was that woman.
And who better than the fearless, outspoken, Kangana Ranaut to play Jayalalithaa or 'Thalaivi' which, is a celebration of empowerment, victory of a woman's pledge, her honour, and her unshakable confidence in the worst of the times. Kangana, with her concrete and aggressive acting, only makes it easier to understand the highs and lows of Amma's life.
Why are we telling you all this today? This is no movie review. This is about the absolute stalwart that is Kangana Ranaut.
A small-town girl, who has often spoken of her struggles to fit in with the glamorous crowd, Ranaut rose to become a style icon and one of Bollywood's most bankable actresses, with millions of fans at home and abroad. Her forthrightness has won her praise for standing up to clannish, patriarchal Bollywood bigwigs.
Kangana is also a style icon and she has proven this statement many a times. She is the one true style goddess who is known for her quirky, edgy and adventurous appearances, whether it is red carpet or any fashion show. Not unlike her transformations on-screen, Kangana Ranaut's wardrobe undergoes drastic changes based on the star's state of mind. From traditional saris to gowns and trickier trends, there's not a look the actor wouldn't try.
And in keeping with this experimental trait of hers, we are proud to announce that the gorgeous actress chooses Jaipur Gems for her Indian accessories and jewellery requirements from time-to-time.
Thailaivi's promotion event was one such occasion when Kangana chose to flaunt Jaipur Gems' Classic Gold Choker with Pearls. Crafted in 22kt Yellow Gold with Pearls Studded all along, this Gold Choker is an essential part of our Gorgeous Gold Collection.
Drawing from our rich heritage of craftsmanship culture, we have curated a contemporary Gorgeous Gold collection creating wearable pieces of art, inspired by nature, mythology and the universe. You can wear florals and temple motifs around your neck, petals and rangoli designs as earrings and even wrap the wind around your wrist. The lightness of these exclusive pieces makes them even more desirable. Love for Gold jewellery will never fade, and millennials are now choosing light weight and intricately designed Gold pieces that are absolute stunners.
Speaking about Kangana's love for our Gold Jewellery, Creative Director and CEO, Jaipur Gems says, "Kangana is very close to Jaipur Gems. She has always selected pieces on her own and she has loved out Gold jewellery. So, when it came to a special moment like Thalaivi promotions, she made sure that she got the choker that she wanted. We did a nice video call with her and from a few select pieces, Kangana and Rangoli together, shortlisted the choker and the jewellery. She has used this piece for promotions, not only on Kapil Sharma show but also at her events in Chennai. She is also a regular client of ours and she often buys her Gold jewellery from us."
Building on the ethos of the freedom to create, unfettered imagination and diverse inspirations spur on our desire to push the boundaries. Our Gold Chokers and Necklaces are our glorious present to wonderful, strong and empowered women. Our chokers are gracefully decorated with charming embellishments and versatile style.
Talking about her love for our jewellery, Kangana says, "Jaipur Gems designs have an old world authentic charm to them, their jewellery is beautiful, classy and rich… I absolutely love their designs."
Go check out the stunning Gold Choker from Jaipur Gems that Kangana chose for her Thalaivi movie promotions.