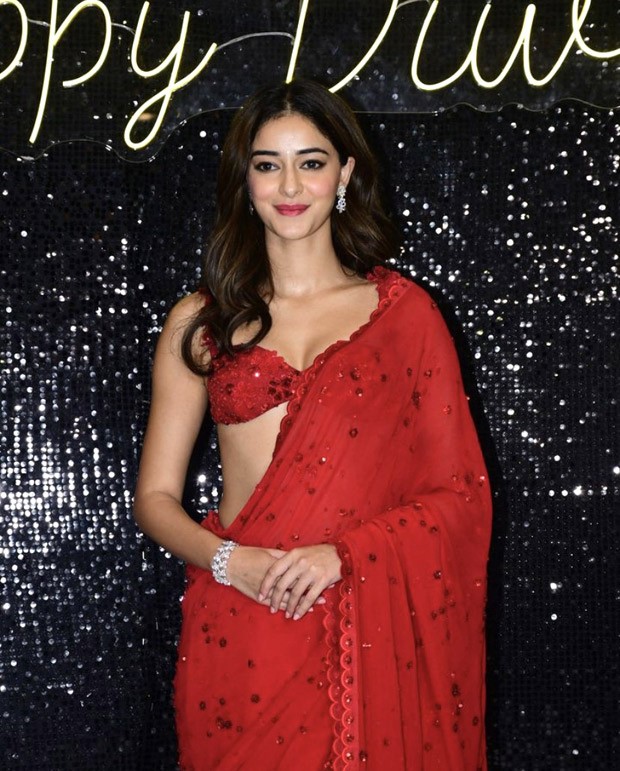 For Diwali bash, Ananya Panday wore a sequined sari that we're making sure to bookmark for the festive season Red sarees continue to be a timeless and iconic pieceof clothing in every Bollywood actress' wardrobe, as Ananya Panday is living proof! Ananya Panday understands how to add some modernity to a traditional appearance. A large-scale Diwali party was recently organised by Krishan Kumar Dua, the owner of T-Series, the largest music production firm in India, and we saw a number of celebrities there. While numerous celebrities, including Rajkummar Rao, Varun Dhawan, and Sidharth Malhotra, to name a few, attended the party. Fans absolutely adored Ananya Panday's new style after seeing her arrive at the celebration in a fiery red saree.
Ananya Panday's stunning red saree by Nachiket Barve captivated everyone in attendance at Krishan Kumar Dua's Diwali party
We are all searching for ideas to upgrade our wardrobes as the festive season arrives. You only need to take fashion inspiration from Ananya Panday's most recent ensemble if you are experiencing the same thing. The actor lately wore the most fashionable blouse with a lovely saree. Nachiket Barve, a fashion designer, created a stunning red saree for Ananya to wear. Her saree came in a rich crimson colour with scalloped borders made of beaded lace. Red sequins covered the entire expanse of her saree. Being Ananya, she added a modern twist with her blouse selection. The actress wore the saree with a crimson blouse that featured wide straps, a plunging neckline, and red sequins all over.
Ananya kept her jewellery simple because of stunning saree in its stunning shade was all that was actually needed to make her stand out. Her only piece of jewellery was a studded cuff and dainty diamond earrings that she wore. It's safe to say she stepped right into our hearts wearing this chic ethnic outfit, especially with her curls and rose-toned makeup. Ananya Panday's fuchsia sari is ideal for making an entrance at a cocktail party or stealing the show at a Diwali celebration.
ACTRESS: Ananya Panday
OUTFIT : Nachiket Barve
STYLIST: Meagan Concessio
JEWELLERY: Jaipur Gems & Diamantina Fine Jewels