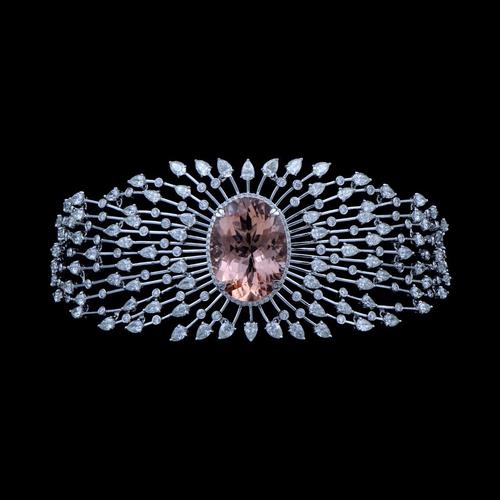 "Today, wedding styling is changing a lot in terms of what brides want to wear," Nathani tells Vogue.
Building on her views about a visible shift in aesthetics, she fills us in on how to ace a traditional look with the help of a choker;
discusses statement jewellery pieces from Jaipur Gems;
offers her tips on how to wear shoulder-sweepers to nail a contemporary Indian look;
and shares her opinion on coloured gems.
"Simplicity is coming into the picture," she says. "Younger brides are more open to embracing new and modern things."
Having closely worked with distinguished Bollywood actor Deepika Padukone on some of her most iconic looks, Nathani has, time and again, pushed the envelope of styling with her creative vision. In a brief interview, she let us in on some of the tips and trends she recommends you to try—as well as show you how to wear the exquisite jewellery pieces by the Sacheti family's sixth-generation brand, Jaipur Gems.
What we gathered from our conversation, in a nutshell
Focus on pairing statement pieces with lighter outfits, and finding the perfect mix between prints, patterns and colours. Plus, here's more:
When attending a nuptial, go for real flower jewellery with these circular earrings by Jaipur Gems
"These earrings from Jaipur Gems are quite light and fun," Nathani says. "The pair would be ideal for a mehendi event. For a little more boho vibe, style it with real flower jewellery. And just to mix it up a bit, I think it would look really nice with different prints, patterns and colours too." Even if you're planning to use it for a daytime occasion or a sundowner party, the choice is ideal. Nathani confirms, "It's not heavy, so it's something you can wear during the day."
Opt for a contemporary pre-draped sari with these statement diamond danglers
"Again, these qualify as statement earrings. I feel this is something you can wear on your reception night," Nathani expresses. "The pair will look stunning with a really nice modern cocktail sari. You can go for a beautiful full-sleeved blouse, or even a sleeveless one, like a little sexy blouse, with this one." Speaking on colour choices, she tells us, "Any colour that you choose to wear would look nice with it, but a pre-draped red, navy blue or black sari is a good option. Avoid opting for a traditional silhouette because it would clash with the earrings. Complete your look with a contemporary ring."
Layer this Jaipur Gems choker with a lower necklace
Although a statement piece in itself, the diamond-encrusted choker would also make a great case for the layered necklaces trend. The stylist says, "This is something you can wear with a lehenga, and layer with a lower diamond necklace. Wear a pair of earrings if you want to really dress it up. Many lehengas today are not very heavily embroidered, and I think it's quite nice if you keep the outfit or the jewellery—either one of them—simple. Like for this one, keep the outfit simple and jewellery heavy."